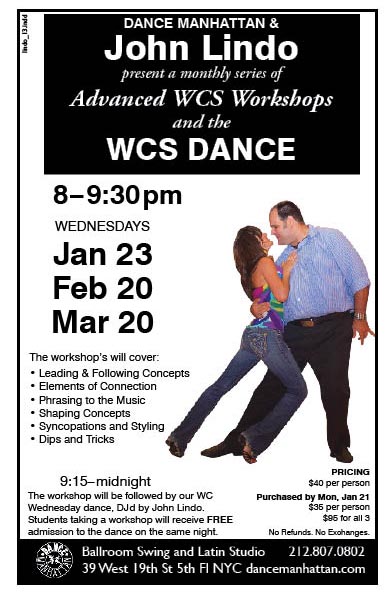 Workshops will be held on Wed, Jan 23, Feb 20 and Mar 20 when John Lindo visits the studio, and the east coast, monthly. On these evenings he will also Guest DJ the WC Wednesday Dance!
The workshops will cover:
. Leading and Following Concepts
. Elements of Connection
. Phrasing to the Music
. Shaping Concepts
. Syncopations and Styling
. Dips and Tricks
Pricing:
Standard: $40 per person per workshop
Purchased by the Monday prior: $35 per person per workshop
Purchased by Mon, Jan 21: $95 for all three
Students paying for the workshop will receive FREE admission to the WC Wednesday dance following on the same evening.
Check out www.dancemanhattan.com for full details and registration.